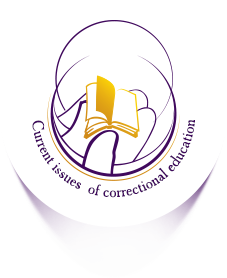 +38 (03849) 2-70-64
Current issues
of correctional education
(pedagogical sciences)
The collection of scientific works highlights the actual issues of correctional education, presents a wide range of scientific research and practical achievements of domestic and foreign researchers. The peculiarities of organization and conducting educational, corrective-developmental and rehabilitation work with different age groups of persons with violations of psychophysical development in the conditions of preschool, school, and extracurricular special institutions, as well as in the process of inclusive education and family upbringing are shown.
The collection of scientific works is included in the list of scientific professional editions of Ukraine and in the international Index Copernicus base.
The collection of scientific works is addressed to specialists in the field of correctional education, to doctoral candidates and postgraduate students, to everyone who is interested in current problems and perspectives of the development of correctional pedagogy and special psychology.